Comprehensive e-learning solution
All the tools you require to e-learning in one place
On the market there are many different tools to support teaching. Unfortunately, each of them is a separate application, which you must purchase a license and implement in your organization. They operate as separate independent applications, which do not work together properly, and many steps must be repeated unnecessarily losing valuable time.

The eduSquare system we created wanting to provide the customer with a comprehensive solution that will satisfy all the needs that exist in e-learning education.
All the distance learning tools in one place
You do not need dozens of separate tools that aid the process of distance learning. In our system, we integrated a lot of tools that communicate with each other and form a coherent whole. In your organization deploy a single system that includes everything you need for distance learning. This saves both time and reduce costs of implementation and operation. Tools that have integrated in our system, work together and complement each other.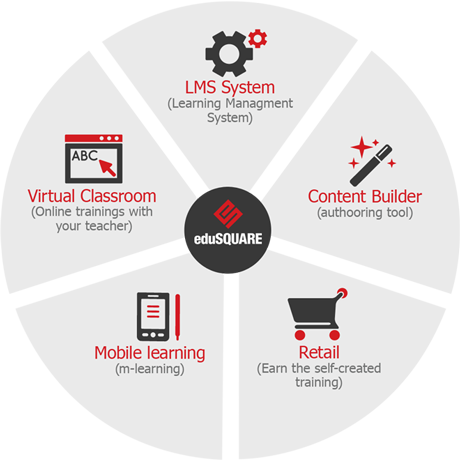 The LMS - learning management system

comprehensive tool to manage the training activity and learning process:
students register for courses
tracking of individual skills
reporting progress and time spent on learning disabilities
satisfaction survey of people trained


Content Builder (authooring tool)

intuitive tool used to create by yourself training content
fast and easy creation of courses. You can create them yourself, so that development time is significantly reduced training creation
reduce the cost of training creation to prepare e-leaningowego, you no longer need to order the implementation of e-learning from external companies
in the training creation process can be engaged a smaller number of people


Virtual classrooms and additional tools

virtual classes allows conducting remote classes with teachers and pupils, in live without the need to meet in the same place.
knowledge base and dictionaries allow you to gather in one place the knowledge, materials and content available to all participants.
communication tools such as forum, chat, and internal e-mail will allow students to exchange knowledge, as well as streamline the process of communication between the student - teacher


Retail - extending the sales market

gives the possibility of retail sales to individual clients
specially prepared for this store will provide a distribution channel and promotion of trainings selected by the administrator
retail sales is completely automatic and does not involve precious time. Once created e-learning course can be purchased by hundreds of people without extra work on your part.


M-learning

Once created content, available for both - mobile and desktop devices
Support Android and Apple devices